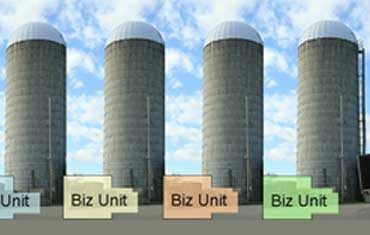 I just read an interesting article by John Winsor, a contributor to Forbes.com.  The title of the article is
Don't Put The Word 'Innovation' On Business Cards.
Here's the link to the article.
SUMMARY:
The idea of the article - as I understand it - is that innovation 
centers, special innovation units, or skunk works creates a silo in a
company's culture. It's unfavorable because it breeds demotivation, 
and could create serious brain-drain if the company hits hard times
and the unit is disbanded or scaled back or if someone leaves the 
company. Instead, embed innovation throughout the entire company; 
don't isolate it.
MY COMMENTS ON MR. WINSORS' ARTICLE:
While isolation and silo-type of culture could develop as a result of having an innovation special unit, it's not a direct correlation. If it is happening, more likely it is a red flag that the innovation program is not working correctly.
Let me create an analogy between an innovation special unit and the Navy Seals. Both are agile groups that focus in on missions that are too tough for others to complete. Maybe others have tried and failed or no wants to try. These SEALS carry out their assigned missions and in the process, develop special operational strategy and tactics. Over time, these proven strategies and tactics can be systematized and processes can be developed for use throughout the organization. The SEALS take on the toughest problems and they encounter obstacles that develop and test their stamina, leadership and ability to work as a team.
Read More