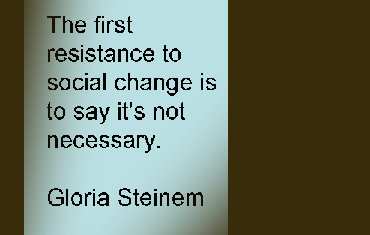 I just read an interesting article by Kathleen Kelly Janus on the Stanford Social Innovation Review. The title of the article is
Demystifying the Theory of Change Process: Why the process of creating a theory of change matters, and a five-step guide to success.
Here's the link to the article.
SUMMARY:
The idea is that nonprofits should develop a theory of change 
articulation because they powerfully and efficiently explain why 
programs will lead to strong, measurable results. Developing a 
theory of change really is a means of assuring that your 
organization is actually doing the right things in the right ways
and actually making a difference. The problem is that many 
organizations don't do it well and many leaders struggle with the 
process. She gives five steps to help ensure that the process is 
successful.
MY COMMENTS ON MS. JANUS' ARTICLE:
Your five points will be useful for social innovators because those five points help "grease the skids" of change and because humans resist change for many reasons.
Social innovation is mostly about doing things differently – disrupting the status quo – creating change to make things better. But big change means big resistance to the social innovator's plan. That's why a theory of change process is useful. It may help the social innovator grasp the reality of the resistance they will face.
Many social innovators cannot tolerate this backlash and so they compromise their plans to make small changes – incremental changes over time to disrupt the resistance to their goals. The bad news is there will be a corresponding small benefit to be garnered. Martin Luther King Jr. talked about the dangers of gradualism, especially for social change.
Read More